Rubeh Grace M. Catapang | Teacher II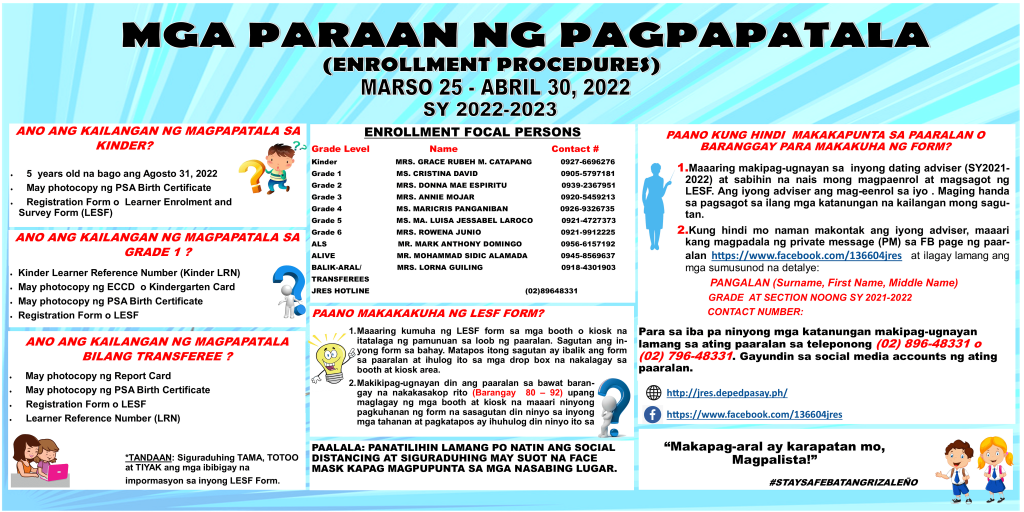 The Department of Education, together with the Schools Division of Pasay City, has announced Early Registration for School Year 2022-2023, which will run from March 25 to April 30, 2022, in anticipation of the forthcoming opening of classes.
As stipulated in DepEd Order No.03, s.2018 or the Basic Education Enrolment Policy, all incoming kindergarten, grade 1, 7, and 11 learners are required to pre-register to give ample time to the public elementary and secondary schools to prepare and adjust plans for the incoming school year.
Also, the department's mandate for early registration is to locate, identify, and register out-of-school children and youth to be encouraged and assisted to go back through the Alternative Learning System (ALS)
Thus, on March 25, 2022, our school head, Dr. Rolando E. Soriano, planned and executed a kick-off motorcade activity to inform our stakeholders in our catchment area about the start of Early Registration. The motorcade route began at Jose Rizal Elementary School
The said motorcade was participated in by faculty and staff, GPTA Officers, Barangay Officials, and Front Runners, and they distributed flyers, posted tarpaulins, and banners to make our early enrolment campaign informative. Teachers from Grade One visited the nearest barangay and daycare centers, distributed enrolment forms, and coordinated with the barangay officials about the enrolment.
After the motorcade, teachers entertained and assisted parents and guardians who immediately responded to the early enrolment campaign. Our Public Schools District Supervisor, Dr. Myrna Martino visited our booths and monitored the progress of the enrolment. Positive feedback was given on the first day of the activity.
       With the strong guidance and provision from our support group from the school head, faculty and staff of Jose Rizal Elementary School, DepEd-Division of Pasay City and LGU- Pasay City, the launching of Early Registration 2022 was successfully conducted. #