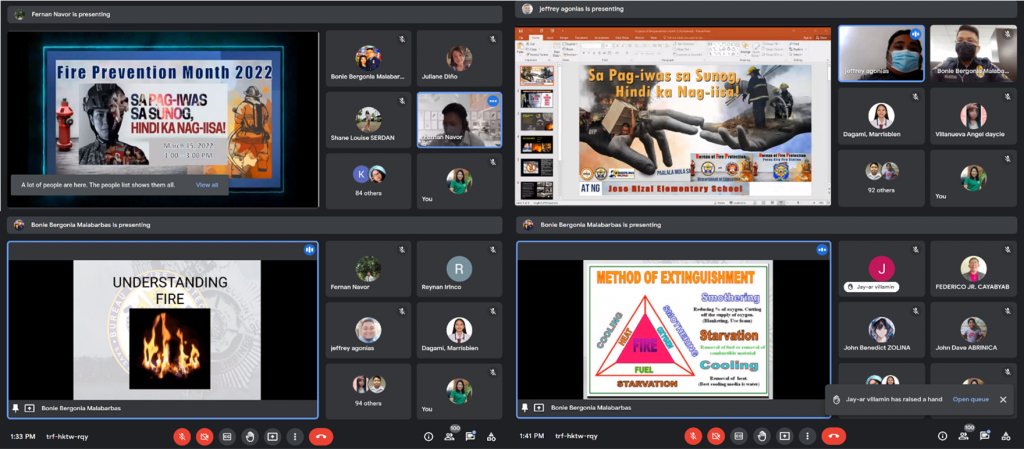 In line with the Fire Prevention Month Awareness for the whole month of March 2022 with the theme "Sa Pag-Iwas sa Sunog, Hindi Ka Nag-iisa", Jose Rizal Elementary School conducted an Online Fire Safety Awareness webinar for selected learners and teachers on March 15, 2022 via google meet.
The webinar started the nationalistic song, prayer and Pasay City hymn through an audio-visual presentation prepared by our school ICT Coordinator Mr. Mark Anthony Domingo. Our school head, Dr. Rolando E. Soriano, Principal IV gave his heart-warming inspirational message. Mr. Jeffrey T. Agonias, SDRRM Assistant Coordinator, discussed the scope and rationale of the webinar while Mr. Fernan A. Navor, SDRRM Coordinator, introduced the resource speaker from Bureau of Fire Protection – Pasay City Station, SFO1 Bonie B. Malabarbas.
SFO1 Malabarbas discussed the cause of fire and provided the necessary fire safety precautions and tips in case of fire incident. During the duration of the said webinar, the learners were actively eager to learn which can be seen in the interaction between them and the resource speaker. At the end of the discussion, SFO1 Malabarbas openly accepted and answered the queries of the learners.
The certificate of recognition was awarded to SFO1 Malabarbas for his expertise in the said topic. Mr. Ivan R. Grulla, Master Teacher II, delivered his closing remarks and challenge to the participants. The event was facilitated by Mr. Reynan P. Irinco.
Through this Fire Safety Awareness webinar, the school ensured that all learners and teachers are knowledgeable enough in fire prevention and other disasters.
Written by: Fernan A. Navor